Office Visits
Initial exam
Your first visit to our office will be a complementary exam. Dr. Haltiwanger will evaluate the dentition for misalignment, malocclusion, jaw relationship issues, and other possible problems. He will then discuss possible treatment that might be needed, an estimate of how long the treatment might take, and an estimate of the treatment fee.
Records appointment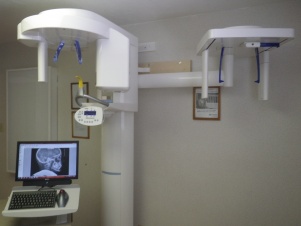 If you decide to proceed with treatment after your exam, records are then made to determine the best course of treatment. Complete diagnostic records typically include a medical/dental history, clinical examination, study models of the teeth, photos of the patient's face and teeth, and X-rays. This information is used to develop a custom treatment plan that addresses the unique needs of each patient. These records are also helpful in tracking the progress of treatment as the teeth move under orthodontic care.
The implementation and use of x-ray equipment is strictly monitored by state authorities. This means that the x-ray machine, the room which it is housed in and the staff who are allowed to operate the machine have all received official sanction or training. Additionally, there are comprehensive guidelines to reduce patient and operator exposure. In addition to adhering to these policies, we have the latest digital panoramic and lateral cephalogram machine available which reduces radiation exposure to the minimum possible while delivering excellent quality radiographs. As the images are digital, they can be viewed on any computer on our network and transferred electronically to other dentists and specialists.
After your diagnostic records have been evaluated, your treatment options will be explained to you in detail, including the cost for your particular case.
Regular appointments
After the records appointment, we'll be ready to schedule an appointment to have your new appliances (braces, expanders, etc.) placed. That process usually takes one to two hours. You'll then see us at regular intervals of four to eight weeks for adjustments, which take about 30 minutes.
Patients are seen by appointment only. We make every effort to be on time for our patients and ask you to extend the same courtesy to us. If you cannot keep an appointment, please notify us at least 24 hours prior to your scheduled appointment time.
Appointment Scheduling Policy
As most of our patients are attending school, we must alternate monthly appointments to ensure that there will be a minimum loss of classroom time. You will be scheduled for a morning appointment, early afternoon appointment, and a late afternoon appointment on an alternating basis. Each patient will then be treated equally, and exceptions cannot be made. Please be certain that this arrangement is acceptable to you before treatment is undertaken in order that no misunderstanding regarding scheduling will occur.